TRAINING & CERTIFICATION
Have you been thinking about venturing into a new career that actually makes you HAPPY and makes an AMAZING INCOME? Now is the time!
Our courses allow you to:
BECOME YOUR OWN BOSS
SET YOUR OWN HOURS
MAKE UNLIMITED INCOME
DO WHAT YOU LOVE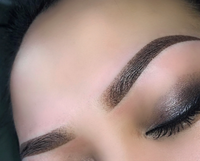 Soft Ombré Powder Brows
***CONTACT ME BEFORE BOOKING IF YOU HAD YOUR BROWS DONE PREVIOUSLY BY ANOTHER ARTIST***

Ombre Brows are my signature brow! This technique appears light and powdery at the start of the brow and darkens towards the ends creating an ombre look. The final healed results is powdered filled brows similar to the look of makeup. This method suits everyone including all skin types.
Enjoy a World-Class Experience
Our Classic Full Set is a lash application where the attachment of 1 extension is applied to 1 natural eyelash. The result is an enhanced lash line with a natural and realistic appearance. Classic Lashes are great for those who want their lashes to look beautiful yet natural.
Our MEGA Russian Volume Full Set gives you a super glamorous with fabulous volume. Amazing for girls who prefer powerful expressive makeup, but don't want to spend a lot of time putting on makeup. During the Russian Volume application, 4-6 ultra thin lashes are attached to each natural lash to build up a density and achieve a «super star» effect.
We want you to feel welcome and content when you visit. We work hard to make sure that every guest leaves smiling and feeling thrilled with their new look. With highly skilled training and experience, we will work with you to ensure results that make you shine on the inside and out.