Our beautiful and Easy-to-Use Brow Stamp is a full-pigment, water and sweat-resistant eyebrow pomade formula that helps fill in brows PERFECTLY every time! This blendable, long-lasting formula comes in a few other shades for you to choose from and goes on smoothly to skin and hair leaving a matte finish. Our eyebrow stamp comes with 10 stencil shapes to ensure you achieve the PERFECT BROW!
Our Brow Stamp helps you create "The Perfect Brow in Seconds"!
  Each Kit Includes:
1 Eyebrow Stamp Kit
10 Stencil Shapes
2 Spoolie brushes
🔥 The price is limited! 🔥 Grab yours as the limited promotion available!
If you are not satisfied with the goods you receive, we offer a risk-free 60 day  money back guarantee!
Achieve Perfect Eyebrows Without The Fuss!
Designed for effortless, flawless application, is a full-pigment, waterproof, transfer resistant formula that helps to create bushy brows in seconds! Blendable & buildable, it comes with 10 stencil shapes to ensure you look fabulous with the perfect brow every time!
Super easy to use and perfect for beginners, just stamp the brows over the stencil to achieve even, naturally matte brows with clean edges in 5 secs!
Fill in Brows Perfectly
Place it and draw naturally filled-in eyebrows with zero effort! Perfect for beginners, it gives you the easiest, fastest way to shape eyebrows like a pro.
Long-Lasting, Waterproof
The buildable, transfer-resistant formula will leave a naturally matte finish that lasts through the day.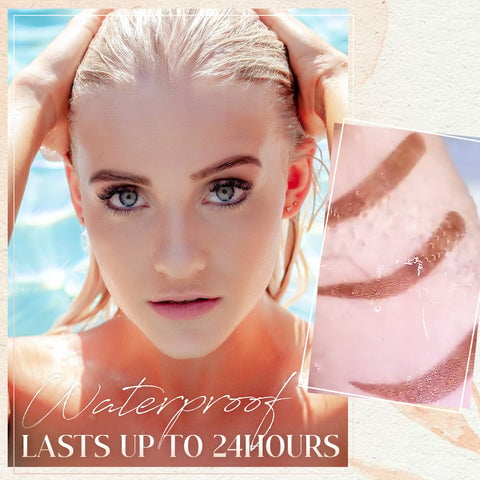 Perfectly Shaped Border
No more uneven eyebrows! The pre-printed stencil helps you to stamp on sparse area effortlessly with no mistakes.
⭐️⭐️⭐️⭐️⭐️

"I was skeptical at first, but when I lined up the stencil and lightly went over my brow and took the stencil off... WOWWWWWWWW amazing! This is a game changer for me and boosted my confidence up a bit too." - Phoenix

---

⭐️⭐️⭐️⭐️⭐️

"The stencils give you a wide range of options in shaping your brows. Ease of use is what it's all about. Beats pencils or powders." - Regina K.

---

⭐️⭐️⭐️⭐️⭐️

"I am not good at drawing eyebrows. However, this stamp kit elevated my brow game. I simply placed the plastic shaper over my brow and rubbed the mushroom across it and voila I had perfect brows. I love this." - Angelia M.

 

Quick & Easy to Use
Perfect for beginners to create good-looking brows, this kit will turn an 15 minutes-long filling-in process into seconds with even application.
Reusable, Washable
Durably made with waterproof PVC for long-term use, just rinse it with warm water with zero residues!
10 Shapes for Selection
Suitable for Hiding Hair front & Bald Spots
HOW TO USE
Place the stencil over your brows
Stamp your brows over the stencil
Remove the stencil and that's it!